Anam Hospital and Kakao Healthcare CIC Sign MOU to Install Smart Hospital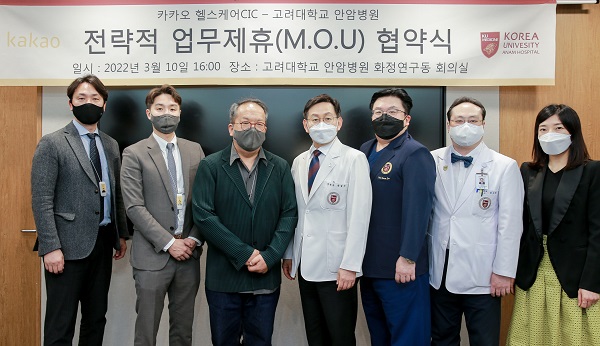 On March 10, 2022, Korea University Anam Hospital announced that it had signed an agreement with Kakao Healthcare CIC to cooperate in realizing a digital healthcare-based smart hospital.
The signing ceremony was held in the presence of
Eul-sik Yoon
, President of Korea University Anam Hospital; Bum-jin Park,
Vice President for Medical Researc
h; Ki-jung Lim, Director of Planning; Sung-hee Han, Research Director; Hee Hwang, CEO of Kakao Healthcare CIC; Director Han-cheol Jegal; and Manager Sang-jin Kim.
Korea University's Anam Hospital plans to turn itself into a smart hospital through cooperation with companies with outstanding digital technologies, such as LG Electronics, Naver Cloud, and Kakao Healthcare CIC.
In addition to the mutual collaboration already in place, including the new R&D unit project, the agreement will allow Korea University Anam Hospital's digital healthcare to meet the outstanding technology of Kakao so that mutual cooperation can enhance research and bench-to-bed capabilities.

President Yoon said, "As a research-oriented hospital, Anam Hospital is dedicated to contributing to medical development at home and abroad by conducting convergence research, boosting international cooperation, and implementing data-based decision making practices. We hope that working with Kakao will facilitate our desire to build a smart hospital."


Korea University Anam Hospital has fully implemented Korea's first cloud-based precision medical hospital information system (P-HIS) developed by Korea University Medical Center, and it is also stepping up its capabilities to improve patients' health and provide quality medical services by using ICT technologies such as artificial intelligence (AI), robots, and Internet of Things (IoT).

With increasing expectations for medical institution to offer safe and patient-centered medical services, the hope is that smart hospitals can lay a foundation for realizing truly patient-centered care services as well as advanced convergence innovation technologies.