Professor Seok-Ho Kang's Team of Korea University Anam Hospital
Develops a Predictive Model for Prostate Cancer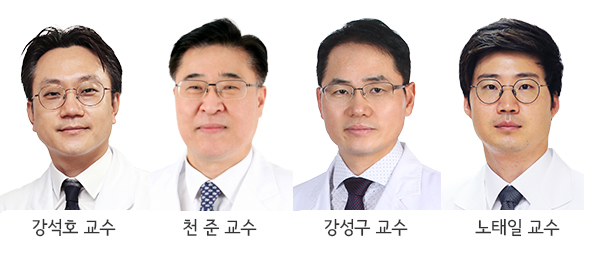 A research team led by Professor Seok-Ho Kang of Urology of Korea University Anam Hospital (Professor Tae Il Noh, Professor Sung Gu Kang, and Professor Jun Cheon) developed a predictive model that allows prediction of clinically significant prostate cancer that requires active treatments such as prostatectomy or radiation and chemotherapy with an accuracy of 86.1% before a biopsy.
The team analyzed 300 men with clinical suspicion of prostate cancer after PSA testing or abnormal findings in a digital rectal examination and developed the model. The model based on Prostate Imaging Reporting and Data Systems (PI-RADS) scores of bi-parametric magnetic resonance imaging (biMRI) and PSA density showed high discriminatory power (area under the curve, 0.861) and resulted in a significant net benefit on decision curve analysis.
21.6% of men could avoid unnecessary prostate biopsy when the model is used compared to the conventional method of determining the subject of a biopsy.
Accurate prediction and diagnosis can result in a decision-making process that leads to tissue biopsy and surgery. Accurate and precise diagnostic tests and state-of-the-art surgery based on them enable patient-specific precision care.
Professor Seok-Ho Kang of Urology of Korea University Anam Hospital had significantly improved the diagnosis of prostate cancer with transperineal MRI/ultrasound fusion biopsy compared to traditional transrectal biopsy. MRI/ultrasound fusion biopsy targets lesions that are believed to be at high risk for cancer and takes samples. Transperineal biopsy provides a safer and more accurate biopsy of all parts of the prostate than transrectal biopsy.
As an accurate prostate cancer biopsy is available, a treatment plan can be tailored to meet patient's specific needs and their best interests. Depending on the patient's health status and the degree of progression of cancer, patients can choose active surveillance, surgery, or radiation therapy. When surgery is needed, cutting-edge surgical methods such as robotic surgery can offer the best possible outcomes, and it can significantly improve patients' prognosis.
"This predictive model can be a useful tool for clinical decision-making," said Professor Seok-Ho Kang. "By providing patients with more accurate diagnoses and precise treatments, we can achieve the best results through better diagnosis and treatment," he added.
'A Predictive Model Based on Bi-parametric Magnetic Resonance Imaging and Clinical Parameters for Clinically Significant Prostate Cancer in the Korean Population' was published in the latest issue of the Korean Cancer Association's journal Cancer Research and Treatment (Impact Factor 3.8).