Korea University Anam Hospital 100% Completed Transition of Korea's First Cloud-Based Next-Generation Hospital Information System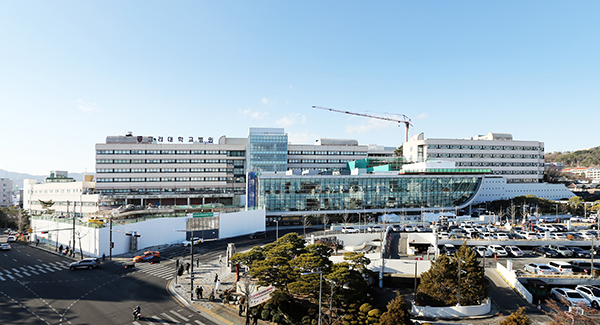 Korea University Anam Hospital (President Jong-Hoon Park) has made a successful transition to Korea's first cloud-based precision medicine hospital information system (P-HIS) on 27 March. It shut down the existing system and adopted the next generation hospital information system announcing a complete new start.
The system transition was carried out seamlessly thanks to thorough preparation. The new system was developed in October last year and beta tested, and the stabilization phase was completed after a simultaneous and parallel operation of existing and new systems, followed by a declaration of P-HIS adoption of Anam Hospital on December 23. Korea University Anam Hospital closed down the existing system at 10:00 p.m. on the day before the system transition. The data transfer was carried out until 3:00 a.m. on the 27th. At 4:00 a.m., the P-HIS was fully operational and applied to the entire hospital system.
P-HIS development is a national project of the Ministry of Science and ICT and the Ministry of Health and Welfare in which KU Medicine participates as a research institution in charge since 2017. P-HIS was developed thanks to the participation of 8 ICT companies such as Samsung SDS and BIT COMPUTER and 6 medical institutions centered on KU Medicine. The system utilizes the Naver Cloud Platform.
In P-HIS, P stands for post, precision, personal, and HIS stands for Hospital Information System. With heightened needs of securing data for precision medicine through amassing personal health data and standardizing medical information, the system was developed based on the cloud. This is the first time Korea's tertiary hospital is adopting the system.
Tasks like outpatient and inpatient treatment and patient affairs of a hospital were developed into 38 standard modules so they can be applied to hospitals of various sizes. The system reflected the requirements of JCI accreditation and electronic medical record (EMR) accreditation. As it is based on the cloud, inter-hospital data sharing can increase the efficacy of treatments and the safety of patients and cut patient costs as it can prevent unnecessary duplicate orders of a test and supports patient-specific administration of drugs. Furthermore, when a new function is developed and adopted, all the hospitals that use P-HIS can use it, expected to increase the overall standard of healthcare.
Diseases will be prevented, not just treated, with analysis and provision of a large volume of data accumulated in P-HIS in the future. More vibrant medical research enabled by data sharing via the cloud will also bolster national competitiveness.