Prof. Hoon-Yeop Kim of Anam Hospital Performs
1000th Oral Robotic Thyroid Surgery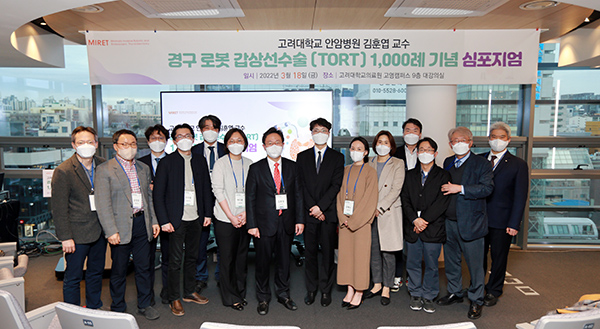 Professor Hoon-yeop Kim from the Division of Breast and Endocrine Surgery at Korea University Anam Hospital held a symposium to commemorate performing 1,000 Trans-Oral Robot Thyroidectomy (TORT) surgeries. Hosted by the Korea Minimally Invasive Robotic Endoscopic Thyroid Surgery Research Society (MIRET), the symposium was held at 1:30 p.m. on March 18 at the Koyoung Campus of Korea University Medical Center after Professor Kim performed the 1,000th TORT surgery on February 8.

The symposium covered the overall history of oral thyroid surgery, which is receiving a lot of attention as it causes minimal scarring while achieving satisfactory results, and each member of the surgery team led by Professor Kim, who actually performs oral robotic thyroid surgery, shared practical tips and know-how based on their experiences.

Following the presentations, other surgeons and doctors who perform thyroid surgery in Korea discussed the future of robotic thyroid surgery. During the symposium, many scholars from around the world who worked with Professor Kim on TORT, including those from the United States, Italy, Poland, Turkey, Brazil, China, Taiwan, Hong Kong, and Thailand, sent messages of congratulations.

Professor Kim said, "TORT is the most advanced technique among existing thyroid surgery skills. It not only helps us meet the ultimate goal of removing cancer, but also leaves no scars or side effects." He added, "We have further developed our skills by performing 1,000 surgeries, and this has made TORT one of our best thyroid surgery skills. We will continue to strive to provide the best possible treatment for our patients."

TORT is a surgical method that causes minimal scarring by inserting a surgical robotic arm through the mouth. Once inside the mouth, the robotic arm goes under the chin to precisely resect only the thyroid gland without damaging surrounding tissues and organs, minimizing side effects and sequelae. Such benefits drew global attention starting from the initial days of development. Professor Kim has been invited to demonstrate the procedure live in various countries around the world, and he was the first among Korean doctors to be appointed as a professor at medical schools in both the United States and Korea at the same time.