KU Anam Hospital and LG Electronics Sign MOU to Install Smart Hospital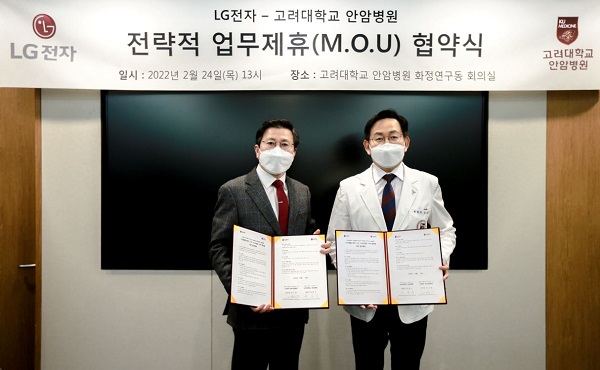 On February 24, 2022, Korea University Anam Hospital (
President,
Eul-Sik Yoon
) announced that it had signed an agreement with LG Electronics to cooperate in realizing a digital healthcare-based smart hospital.
The signing ceremony was held in the presence of
Eul-sik Yoon
, President of Korea University Anam Hospital; Bum-jin Park,
Vice President for Medical Researc
h; Woong-kyo Chung, Director of Operating Room; Jung-myeon Kwak, Director of Public Relations; Sung-hee Han, Research Director; Ik-hwan Jang, Vice President of BS Business at LG Electronics; Ki-moon Baek, Executive Director of IT Business; Senior Director Young-jae Seo; and Solution Business Manager Kyu-nam Choi.
The agreement will allow Korea University Anam Hospital's digital healthcare to meet the outstanding technology of LG Electronics so that mutual cooperation can enhance research and bench-to-bed capabilities to achieve hyper-personalization, install multi-disciplinary real-time surgery stations, and realize digital healthcare-based smart hospitals

President Yoon said, "Last year, Anam Hospital was ranked third in the world in the area of hospital medical system digitalization evaluated by HIMSS, the world's largest medical IT institution. I hope that working with LG Electronics will allow us to achieve synergy in installing digital healthcare-based smart hospital."
Korea University Anam Hospital has fully implemented Korea's first cloud-based precision medical hospital information system (P-HIS) developed by Korea University Medical Center, and it is also stepping up its capabilities to improve patients' health and provide quality medical services by using ICT technologies such as artificial intelligence (AI), robots, and Internet of Things (IoT).